Do you take the lid off when you fill the kettle or do you use the spout?1 I used to be the former kind of person, but somewhere in the past decade I became a spout-filler. It probably happened because of being so busy. Corners needed to be cut, and spout-filling is marginally quicker than taking the lid off.
This is the type of question that my friend F and I ask each other whenever we get together. When we both lived in Sydney we would sit on the cliffs at Coogee and ask, "Why does this rock have a different pattern from that rock?"2 This was in the pre-Google days, and we didn't have a geologist's guide to Sydney handy. It was also pre mobile phones, so there was no way to phone a friend to get the answer.
Then we would stare out to sea and say things like, "Was that a penguin? Would penguins live here?"3 Or we would go for a stroll along the boardwalk and hear an unusual noise and one of us would ask, "Do birds sneeze?"4
When F came to visit at the weekend, we went for a lovely walk in the cork oaks and the Himalayan cedars at the Arboretum and somehow ended up singing songs from Grease. (Hey, I never said I was cool!) F said that as a kid she'd spend hours in her room singing along to her Grease album. "Did you sing into your hairbrush?" I asked. "No," said F. "A Perkins Paste pot."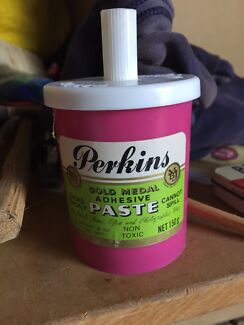 Genius! Then her street cred came crashing down as she confessed that she'd also owned the Xanadu album and sung along to that as well. "Wasn't Gene Kelly in Xanadu?"5 she asked. "Gene Kelly???" I spluttered, wondering how on earth someone could think a dance legend like him would be in such a naff film. (Not that I've seen it. I do have some standards.) But that question we could answer straight away, thanks to the massive technological shift that's taken place since we sat on those rocks at Coogee, not so very long ago. We just looked it up on our phones/cameras/televisions/encyclopaedias/street directories/music players/weather predictors/global networking devices.
When the internet was a baby, I read a book called Information Anxiety, by Richard Saul Wurman. It talked about people becoming overwhelmed by data, and I think it outlined strategies to understand and cope with all that information. But the way the book was written was really unsettling to me. It was so different from the books I normally read. You could jump in and out of it at any point. There were sidebars and little distractions all over the place. I found it hard going and felt a bit anxious as I  read it. There was too much to take in.
I had no idea of what was to come with the digital revolution: a life suddenly full of sidebars and distractions, a narrative that jumped all over the place, a sense of always being a bit behind and drowning in information. Everyone was busy and stressed and there seemed to be a global acknowledgement of anxiety and loss of self-esteem.
While stress and busy are definitely still around, and there will always be distractions, lately I've noticed a shift in the way we deal with the constantly increasing amount of information available to us. Have you noticed it too? Ever so slowly and quietly,  we seem to be finding a balance between real life and online life. We're filtering.
I see people withdrawing from social media platforms that aren't useful to them. I see people connecting online to share stories about real life. I see people posting pictures or writing articles or communicating just for the joy of it, not because they want to gain something or feel they should.
When I started this blog a couple of years ago, people were saying, "Blogging is dead," and mourning the loss of earlier online communities. This puzzled me because I saw blogging as a way of having a chat, telling stories. Surely people still enjoy that? Well, yes, they do. This is a small, unpublicised blog on a quiet internet backwater, but all sorts of people have found it and I'm both delighted and amazed that you read it.
Community still exists in the real world and it still exists online too. New connections are formed every time we comment or email online, just as new connections are formed every time we smile at or talk to someone in the actual world. The internet is just a medium for connection. I think we've just started to remember that.
It's also just a big old encyclopaedia, a way to find answers. I don't mean answers to the burning questions like, "Am I on the right track? Does so and so love me? What should I do next?" That's still up to us, and our network of friends and family in the real world, to figure out. The internet can't really tell me why I now fill up the kettle via the spout, but it can tell me the answers to all those questions F and I have been asking over the years.
Am I feeling this shift because I'm filtering and switching off and only using social media and blogging for nice interactions, or are you noticing it too? I'd love to know your thoughts. But I think we've come out the other side of something and we're regaining our equilibrium. I think we're doing all right.
1 People get very het up about this issue. Kettle manufacturers are no help: one says to avoid filling via the spout, while another encourages it.
2 Leisegang bands.
3 It could have been a penguin.
4 Yes, birds can sneeze.
5 Gene Kelly was in Xanadu. (But I'm still not going to watch it.)